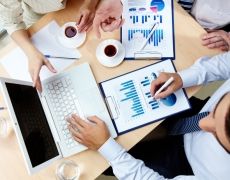 Data analytics has become routine practice across an array of industries in recent years. Involving the collection and interpretation of large amounts of data in support of business-wide strategizing and decision making, there are now a number of exciting and lucrative careers that can be pursued in this field. Many professionals are likely interested in transitioning to a career in analytics, but are unsure how.
If you are looking to shift professional gears and begin an exciting career in analytics, there are a number of important steps to follow that can help you achieve your goal. Every step followed can enhance your employability in this emerging industry. Important strategies include:
1. Return to the classroom
Perhaps the most effective way to acquire the knowledge needed to succeed in this field is to study for an advanced degree in analytics—preferably a Master of Science in Analytics degree. Such programs can teach you the skill set needed to use various analytics platforms to collect the data and interpret it, gathering meaningful and actionable insights. While returning to higher education may not seem feasible, particularly if you already have a successful and time-consuming career, keep in mind that it is now possible to earn your degree online. This flexible option allows you to build your own study schedule, meaning that it is possible to study and have a career at the same time.
2. Become familiar with analytics tools
While this will likely be covered if you return to higher education, it is important to take the time to educate yourself about some of the most fundamental analytics tools used across the industry, Snehamoy Mukherjee explained, writing for LinkedIn. According to Mukherjee, examples of analytics platforms that all professionals in the field should be adept with include R, SAS, SQL and SPSS. While some organizations may not use all of those platforms, it is important to have some understanding of them and to credit the experience on your resume. It is also helpful to be proficient with easier-to-access tools, such as Google Analytics.
3. Choose your industry
Analytics is not an industry in and of itself—data analytics is becoming a ubiquitous practice across a range of industries, from finance to health care to business. Consequently, it is important to have a clear idea about the kind of industry that you want to work within—a decision that will likely be influenced by your past work experience. As Forbes contributor Piyanka Jain explained, certain industries will have specific analytics roles available. For example, workers with marketing experience will likely be well suited for a transition within the industry, to a role such as marketing operations analyst or online marketing analyst. It is important to keep in mind that while analytics training is generally standard across industries, differing skill sets may be needed for analytics roles, contingent on the sector within which you are employed. For example, analytics professionals in finance will need to have an understanding of the financial markets, in addition to their understanding of analytics.
4. Continue to educate yourself
Mukherjee explained that returning to the classroom and learning about analytics platforms is not enough to make a successful career transition to the field—it is important to continue your education by staying abreast of industry developments. An effective way to do this is to read up on analytics-based news via blogs, social media pages and websites. He advised following organizations dedicated to analytics, contributing to blogs and threads. The more you immerse yourself in the field, the more you'll learn, and the more attractive to a potential employer you'll become.
5. Network and connect
Network with colleagues or friends already working in analytics, and to ask them to help educate you along the way. As Mukherjee noted, your education and training can only get you so far—becoming a stellar analytics professional necessitates plenty of on-the-job training.
Consider Villanova University
As detailed above, a truly effective first step to becoming an analytics professional is to return to higher education. If you are a busy professional without the time for on-campus study, consider applying to Villanova University's online Master of Science in Analytics program. Designed to help you study at a time and pace that suits your hectic schedule, the MSA program is taught by the same renowned faculty based on our campus. Learn more about Villanova University's online Master of Science in Analytics program.
Related Articles:
How to start a career in analytics
Wider variety of corporate departments need analytics professionals
How to build a professional network